Custom Web Development

We are providing solution of custom web development with most of latest technologies.

Mobile Application Development

We are working on native and hybrid mobile application development.

Do you have requirement?

Write down your requirements to us and we will make something great together.
OUR SERVICE
At FinchWeb Technologies, we provide our client a one-stop shop resolution at their flexibility.
web development
Our web experiences are high-performing, feature-packed and digitally transformative, designed to be user-friendly, fully functional, very secure and able to scale as your enterprise grows.
web design
With guarantee of providing something new & interesting everytime.
mobile application
Mobile is becoming not only the new digital hub, but also the bridge to the physical world. there by we are aiming for Seamless mobile application with gassed-up performance.
wire-frame design
The aim of a wireframe is to provide a visual understanding of the page early in a project to get stakeholder and project team approval before the creative phase gets under way.
Latest technologies
Web design and development is constantly developing with new ideas,trends,innovations emerging every minute in this fields. so, in order to be ahead of other professionals. Finch web is constantly updated with incorporating latest technologies and concept.
VueJS Development
Vue.js provides reactive data binding and composable view components with an API that is simple and easy.
NodeJS Development
Node.js is intended to run on a dedicated HTTP server. Node.js applications are event-based and run asynchronously.
Amazon Web Services
Amazon provides large and scalable web and cloud services and server management with high availability.
ReactJS Development
React.js encourages the creation of reusable UI components, which present data that changes over time.
PHP Developement
PHP is a script for web development and its MVC frameworks are robust and follows a model-view-controller design pattern.
DevOps Developement
DevOps allows you to automate the deployment for continuous integration and delivery by single click.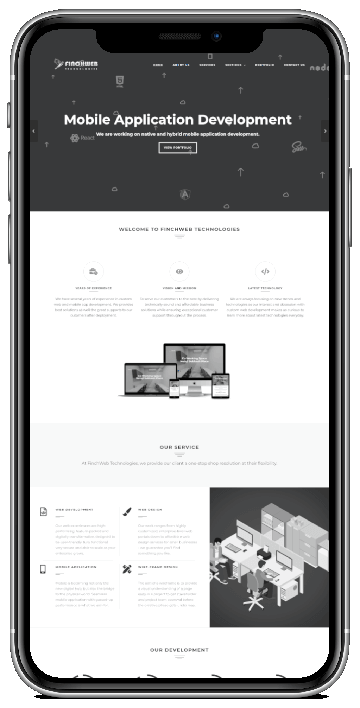 Amazing job done by FinchWeb Technologies, excellent communication and cooperation and making whatever it takes to make your project success. Very glad to work with them.

- Mr. Sameh, United Arab Emirates.

FinchWeb Technologies has a good team, they developed a vue.js frontend for a complicated set of backends. I am about to hire them again.

- Mr. Aaron, United Kingdom.

It has been great working with FinchWeb Technologies, they are a fast responder, skillful and able to fulfill our UI design requirements.

- Mr. Sengfu, Singapore.

Developers of Finchweb Technologies are technically very sound and can provide holistic solution to your need. They prepared a full working website for our need and it is really good.

- Mr. Nitin, India.

I have been using Khushang on an ongoing basis to assist with a variety of different work. Khushang has great communication skills and an understanding of exact tasks. Very responsive and fast delivery to completion. Khushang is very good at getting to grips with new work, getting familiar with the code and problem-solving. I highly recommend Khushang and he is a pleasure to deal with!

- Mr. Tony, United Kingdom.

What an effort! Exactly as we wanted if and did it for a good cause - helping out in the Corona crisis. I'm very grateful. Will definitely hire again!

- Mr. Bjorn, Sweden.
Do you have a requirement?

FinchWeb Technologies is leading and rapidly growing web development company. We have expertise in developing wide range of custom web applications in various open source technologies.
Company Details
322, 4th Floor,
Atlanta Shopping Mall,
Althan Bhimrad Canal Road,
Surat, Gujarat, India.
395007
copyright © 2017-2019 FinchWeb Technologies. All Rights Reserved.